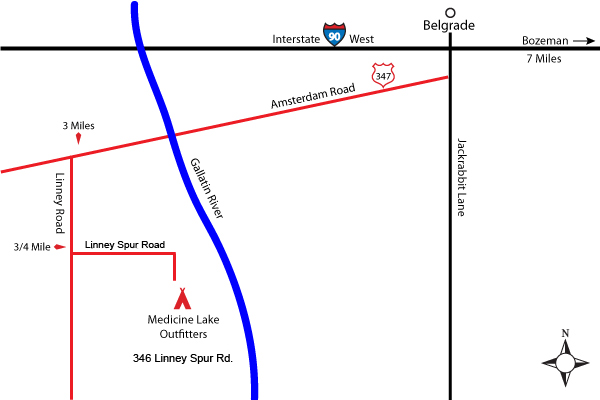 At the stop light just south of the Belgrade Overpass turn west onto Amsterdam Road-Hwy #347.
Drive west 3 miles on Amsterdam Road.  You will cross the Gallatin River.
The first County Road west of the river is Linney Road.  It is signed and paved.
Turn south onto Linney Road and drive 3/4 mile south.
At exactly 3/4 mile turn left or east on Linney Spur Road.  Drive east 1/4 mile back towards the river.  Stay to the middle at the three way fork.
There are several places on Linney Spur with horses and arenas.  Please don't be confused by that.
We are the last place back in here.  When you come through our gate it will have our number 346 on it and a sign that says Medicine Lake Outfitters.
Once you are through our gate the lane will turn to the south and bring you into a set of buildings with red roofs.
Parking is on the west end of the cedar sided building.  It is the first building you come to.
We will meet you there when your ride is scheduled to start.
On average it is about a fifteen to twenty minute drive from Bozeman to here.
Please bring a cell phone and call us at (406) 388-4938 if you need additional help with directions.
Reservations Required  .  346 Linney Spur Road  .  (406) 388-4938